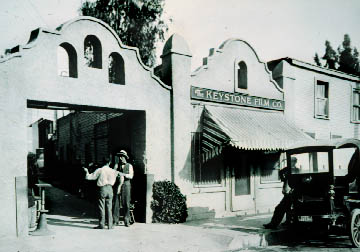 Living in LA has revived my interest in old movies. I used to spend my weekends in middle school watching whatever old movies I could off of network TV, often programming the VCR to record something like "My Man Godfrey" for 3:30 a.m. Tuesday morning. I recently finished a very readable book by Amy Dawes called "Sunset Boulevard: Cruising the Heart of Los Angeles." It was news to me that the silent movie studios set up shop, not in Hollywood, but further east in Silverlake, Echo Park and Los Feliz.
Mack Sennett's Keystone Film Company
was located on Glendale Boulevard in Silverlake, and some of his Keystone cop chases were filmed along that street. Today the studio building is home to Public Storage. Also in the area were the original Disney studios at Griffith Park and Hyperion (today the site of a Gelson's grocery store), as well as D.W. Griffith's studio and the huge Babylonian set built for his film "Intolerance" at Sunset and Hillhurst (today, a Vons grocery store).
Not surprisingly, silent movie stars lived large in the area, among them
Norma Talmadge
, the most famous of the celebrated Talmadge sisters and for which Talmadge Street in Los Feliz is named. I've never seen any of her movies, but I have driven past her house (
here
and above). Built in 1932, it has also been home to Jimi Hendrix and Howard Hughes. The daughter of a stage mom, she started acting in 1910 in Brooklyn and eventually became a huge silent movie star, in no small part because of her marriage to Joe Schenck (the movie exhibitor for Loew, turned first President of United Artists, turned co-founder of 20th Century with Darryl Zanuck). Apparently, she didn't fair too well with the advent of talkies-- her sister Constance reportedly saying, "Quit pressing your luck, baby. The critics can't knock those trust funds Mama set up for us." No worries though since Norma retired fabulously wealthy in 1930.