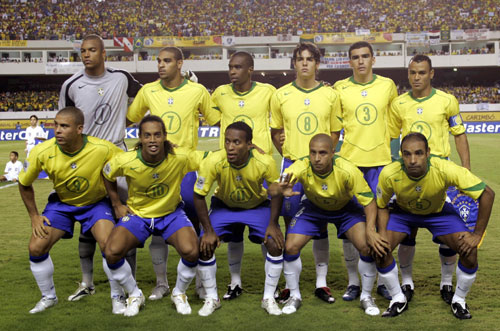 Brazil's starting XI
Right now, this minute, I'm feeling like life is good. It's Friday, late afternoon. I'm at home. I skipped out of the office a little early because I had a headache. On my way home I stopped by the house that Mr. Octopus and I recently bought in Eagle Rock. The painters are almost done painting the inside and it's looking really nice. It's very sunny outside. Hot, but not too hot. Best of all, this is the beginning of my vacation. Granted, I still have a little bit of work to do tonight, but for all intents and purposes, I'm on vacation. I'm taking next week off and I don't return to work until July 5th. What a treat.
I'm really into World Cup. This is surprising to me because I don't follow soccer at all. But there's something about World Cup that's irresistible. I feel like the whole world is excited about it, and I want to be a part of that excitement. I can't think of another event that brings every country together like this. World unity. I'm also beginning to appreciate the game. And being over 30, I can certainly appreciate the fitness. I marvel at the fact that some of these guys are nearing 40.
Like a lot of the people out there, I really like Brazil. I can name each of the guys in the starting line up above. Something that I couldn't do a week ago. I sort of like The Netherlands, but that's mostly because I like orange, which is their color. I like the Aussies and Ghana, in part because I like underdogs. I think Spain is boring. I don't care for England. And I really don't like Argentina and now have no interest in traveling there. Am I becoming a meathead?
The folks at my work have set aside a "World Cup Room" for the duration of the tournament. It's on one of our vacant floors and has a flat screen tv, pretzels, water, chairs and a couple computers for you to check email. I stopped in to watch the Brazil - Japan game yesterday and it was awesome. And not just because both teams scored some
nice goals
. It was standing room only and the mix of people watching was wonderfully refreshing. In an office that is mostly white, the World Cup room had a Brazilian, Persian, Algerian, Korean, Mexican, Australian, Chinese and Vietnamese (me). I can only imagine that our room was a microcosm of the fans gathering around the country, around the world and in the stadiums in Germany.