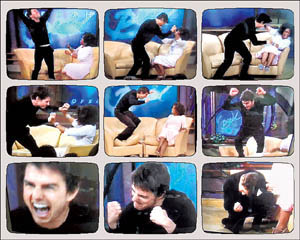 I'm starting to think that Tom Cruise isn't a real person. When you see him in interviews his eyes are intensely vacant; he looks like he's bubbling with anger and will explode at any moment. When he laughs his face scrunches up and he looks constipated. He must be a very advanced robot from outer space. One day smoke will start coming out of his head and the springs in his joints will pop out.
TomKat have been holding seminars about Kat's pregnancy. I would pay good money to sit in on one of those. Alas, I'm not a Scientologist, so I probably wouldn't make it past the gate. I'm starting to think Nicole must've been a nut to have stayed married to this dude for so long. From AP:
Tom Cruise has taken the impending birth of his first child with fiancee Katie Holmes to another level.

"We've been doing seminars with the family just to educate them," the 43-year-old star of the upcoming "Mission: Impossible III" film tells GQ magazine in its May issue, on newsstands April 25.

"Running seminars so we can understand what Kate's going through, and for Kate to understand it. Things like how to take care of a pregnant woman and get ready for the birth.

"It's just kind of becoming a fun game of learning. We've also been studying what happens after the birth and how to take care of the baby."

Cruise says his children, 11-year-old Connor and 13-year-old Isabella - from his marriage to Nicole Kidman - will help take care of the baby.

"The kids will have different responsibilities and run in shifts. They're going to help on every level," he tells the magazine.